With a name like The Entertainment Capital of the World, Las Vegas lives up to it as a shining gem in Nevada's Mojave Desert that lights up the night with its fantasy-like environment. There is so much to see and do, sometimes a little inside guidance helps. Here are five nighttime activities in Las Vegas that you won't want to miss.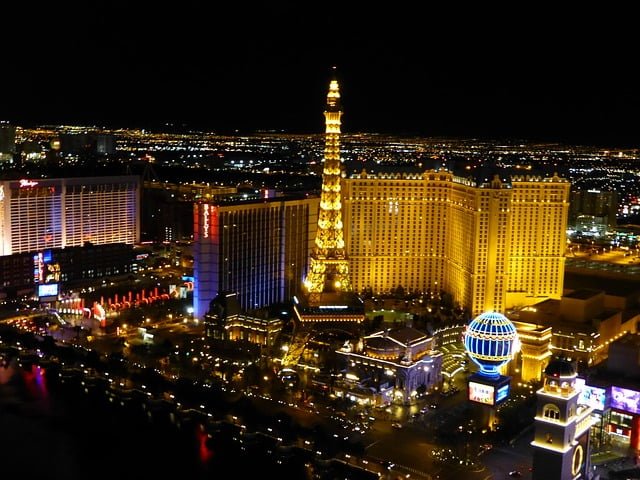 Take a helicopter flight over the Strip
Let a luxury limo whisk you away to a helicopter terminal for a fantastic tour over the strip in the nighttime sky. Marvel at the neon lights from above for a bird's eye view that you just won't get at the ground level. On a helicopter strip tour, you will see all the glamour and glitz of the strip.
Watch the water fountain show at Bellagio
In Las Vegas, performances aren't limited to the stage. Don't miss the free shows at the Fountains of Bellagio. After 8 pm, each night 365 days a year the Fountains of Bellagio put on a spectacular show. The 8.5-acre lake has over 1200 jets that propel colorful streams of water 450 feet into the air that gyrate to more than 30 songs.
Catch a Cirque Du Soleil performance
Most cities are lucky to have one Cirque Du Soleil shows; Las Vegas has eight. All the shows are an eclectic mix of the circus arts and street entertainment. Las Vega's eight Cirque Du Soleil shows are all unique and designed to appeal to a wide range of tastes.
Enjoy drinks with a view
You don't want to miss having drinks at one of Las Vega's rooftop bars. Go in time to watch a desert sunset and then see the lights after dark with drinks, eats and music. The Ghostbar at the Palms Casino Resort is one good choice. On the 55th floor, guests not only marvel at the view but the glass floor as well.
Experience Vegas' infamous nightlife
Of course, you can't go to every nightclub in town with one visit to Las Vegas, but for an unforgettable nightclub experience, Hakkasan at MGM Grand is everything a Vegas club should be. Plus it attracts some of the biggest names in the electronic and dance music scene. And when the club gets too crowded, you can always wrap up the night at one of the many casinos playing a game of poker, roulette, or Fairest of Them All.