Shenandoah National park is Southern Appalachia at its best. The park is only a few hours drive from Washington D.C. and Richmond, Virginia. It is one of the most popular national parks known for its gently rolling, wooded mountains. Majestic in the fall, verdant in the spring and summer, peaceful in the winter, this park has something for all types if nature lovers.
1. Drive skyline drive, especially in fall.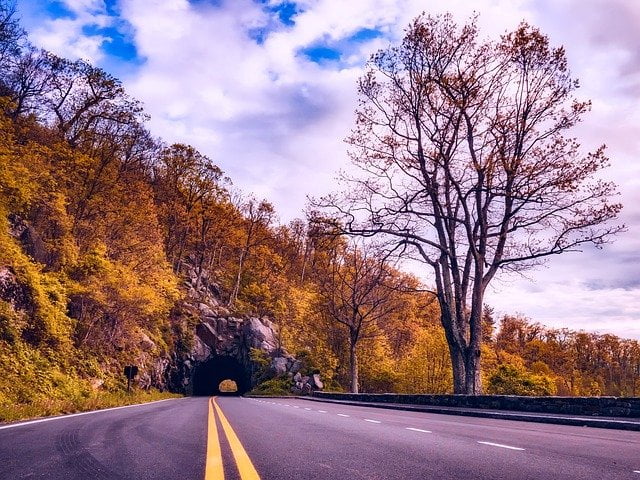 The Skyline Drive is 105 miles of stunning scenery, offering views to the east and west of the Blue Ridge Mountains. The drive is most popular in the fall as the trees of the forest change from green to spectacular yellows, oranges, reds and browns. This is truly one of the most beautiful roads in America.
2. Hike the Appalachian Trail.
The Appalachian Trail extends from Maine to Georgia, and runs right through Shenandoah National Park. The trail is well-kept and includes access to various campgrounds. Hikes on the trail can be as short as a couple of hours or as long as a couple of days. On the trail you might meet hikers from all over the world, but mostly you'll enjoy the quiet, cool woods.
3. Observe Wildlife.
Shenandoah National Park teems with a variety of wildlife, including foxes, beavers, deer, rabbits, bobcats, coyote and even bears. But don't worry – the black bears of this park are quite shy and you're unlikely to cross their path.
4. Picnic.
Pick up provisions in Charlottesville, visiting one of its famous apple orchards or wineries. Then head into the park for some amazing picnic grounds with stunning views of the Shenandoah Valley, meadows of wildflowers or cascading waterfalls. The Big Meadow picnic grounds are where Franklin D. Roosevelt visited in the 1930s, establishing it as a National Park in 1936.
5. Hike to a Waterfall.
Check out Overall Run Falls at a 93 ft. drop in the north part of the park or the serene and green Jones Run Falls in the south part. There are many more waterfall options with easy hikes and nearby swimming holes to cool off on hot summer days.