Looking for a beautiful and unique place to visit in Northern Ireland? The Giant's Causeway is in the county Antrim, close to the town of Bushmills, on the seacoast. Although there are legends of a giant named Finn MacCool that created it, this amazing and strange place of about 40,000 different basalt stone formations and columns was caused by volcanic eruptions and lava that has cooled.
The cooled lava made hexagonal shapes and the dried river cracked into shapes. This is a Unesco World Heritage Site and it is the most famous of all in Ireland.
The Giant's Causeway was formed about 60 million years ago, but was first known to exist as early as 1692. It wasn't until about 1830 that a road was built. In the 1960's the Giant's Causeway Tramway opened and it became a very popular tourist site. Columns and formations like the one named "Honeycomb" inundate the area and a rope bridge brings you over an overwhelming chasm to a small fisherman's island.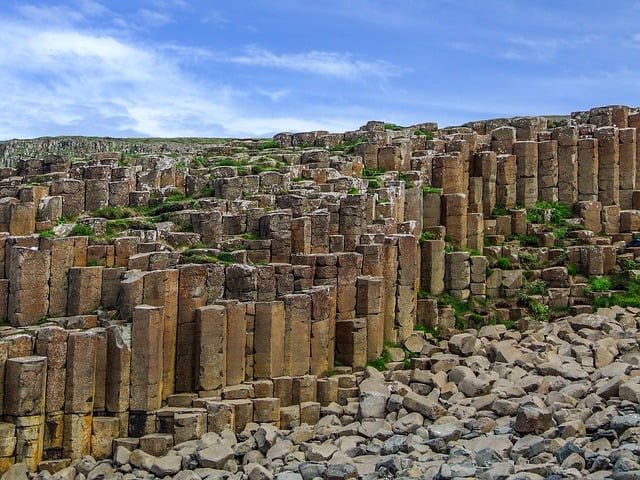 Another perfect reason to visit this "eighth wonder of the world"; admission is free- except for parking. You can take guided tours, have a picnic, or simply go for a perfect country walk to enjoy all the sites. There are many trails to choose from depending on your ability. You can even bring your dog! The visitors center is a great addition to this tourist site with a cafe, toilets and changing facilities, an exhibition and a place to buy great local items!
There are a few places to park including the Railway car park, which costs money to park, but you can walk to the stones (about 1/2 a mile) for free. There are also other services available close by at the Causeway Hotel and a few other shops.