If you're looking for thrills it doesn't get any better than climbing volcanoes, and Indonesia has plenty of those!
Mount Bromo 
One of the most visited volcanoes in Indonesia is Mount Bromo. This active volcano is found in the Eastern part of Java. However, even though it's not the tallest volcano in Indonesia, that doesn't seem to stop tourists from wanting to hike up to the rim. In fact, when tourists head to the rim at sunrise, they're treated to a view that is truly out of this world.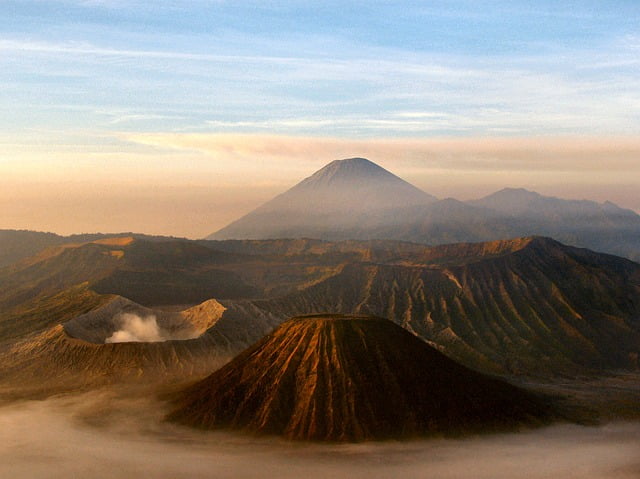 Ijen Crater
The Ijen Crater is another popular spot among tourists thanks to the views. Hikers will experience out of this world scenery where the yellow water appears to be glowing thanks to the sunlight pouring in.
Mount Batur
Mount Batur is a small active volcano, but it's best known for its huge crater – 14km in diameter! This volano is found next to Batur Lake, which is surrounded by the rim's high walls. The size of this crater is a result of a massive eruption that took place thousands of years ago.
Mount Agung
Mount Agung is a stratovolcano in Bali, which actually comes in as the highest point in the whole island. Since this volcano is so large, it plays a part in what the climate is like in this area. That's because when the clouds come rolling in from the west, Mount Agung steals their water, leaving the west green and the east completely dry.
Mount Rinjani
Mount Rinjani is the second highest volcano in Indonesia. On top of Mount Rinjani, there is a caldera, which tourists love to take a look at. The caldera is filled up with a crater lake, known as Anak Laut. Besides the crater lake, the caldera also contains hot springs.
Mount Kerinci
Mount Kerinci is the tallest volcano found in Indonesia, with its highest peak found right on the island of Sumatra. This active volcano is surrounded by the Kerinci Seblat National Park, which is a forest that homes various endangered species like the Sumatran Rhinoceros and Sumatran Tiger.