Genoa also known as Genova is the capital of Liguria and the 6th largest city in Italy. The city's rich music, architecture, gastronomy, history and art allowed it become the European Capital of Culture in 2004. Genoa features interesting tourist attractions, many famous landmarks and enjoys an amazing, mild climate. Here are the best 5 places to visit on a trip to Genoa:
Piazza De Ferrari
Piazza De Ferrari is the most beautiful square in the city and also the main square of Genoa. Piazza De Ferrari is surrounded by very many historical monuments, buildings and palaces such as: the Palace of the Doges, the Ligurian Academy of Fine Arts, the Theatre Carlo Felice, the statue of Giusepe Garibaldi, and the Palace of the Duke of Galliera.
Via Garibaldi
Via Garibaldi is actually one of the most famous streets in Genoa. It's also listed in the UNESCO World Heritage Sites, so you can be very sure it's an amazing place to visit. Via Garibaldi is ten minutes walk north of Piazza De Ferrari. It's a charming street filled with street buskers, beautiful little shops and amazing old places such as Palazzo Tursi and Palazzo Rosso which are art galleries today.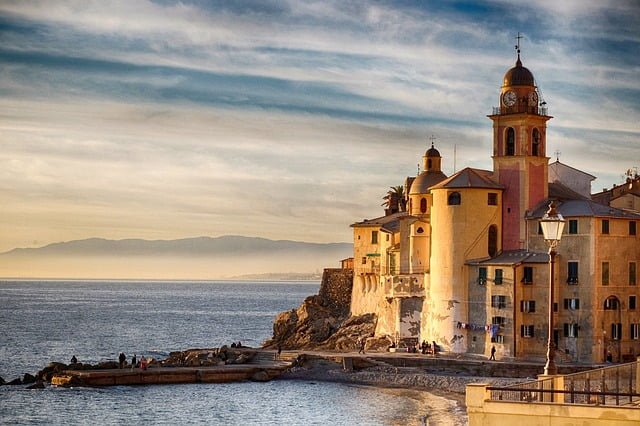 Old Port
The old port of Genoa is known as Marina Porto Antico. Its twelve minutes walk west of Piazza De Ferrari. It's home to amazing historic buildings such as old palaces and cotton warehouses. The old port also has many beautiful attractions such as a botanical garden, an aquarium, a pirate ship replica, a maritime museum and a shipyard crane.
Monumental Cemetery of Staglieno
The cemetery of Staglieno is the largest cemeteries in Europe. You should visit this amazing cemetery to see the famous grave yards and colossal sculptures.
Durazzo-Pallavicini Villa and Park
Durazzo-Pallavicini villa is located conveniently within a lovely park and includes a botanical garden, an archeological museum and many beautiful structures such as a Turkish Temple and a Chinese Pagoda.