Zante is one of the largest islands in the Ionian Sea off the Greek coast. The island is also known as Zakynthos. It has miles of coastline where visitors can enjoy the beach. There are museums for art lovers. History lovers can see buildings that are more than 300 years old. Visitors can reach the island by flying into Zante International Airport or by taking the ferry to one of the island's ports. Flights and ferry trips to the island are scheduled more frequently during the summer.
Beaches
The island's beaches have something for visitors with all types of interests. Families with small children will appreciate the shallow water at Alykanas. People who want to relax on the beach will enjoy the umbrellas and sun beds at Banana Beach. Visitors to Argassi can participate in a variety of water sports.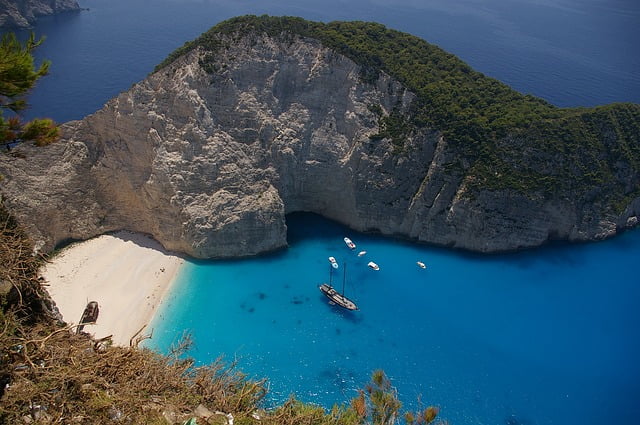 Scenery
Island visitors can enjoy a variety of scenery. They can relax on a cruise around the island. Those who want to get some exercise during their vacation can hike in the island's mountains.
Museums
There are images from the Byzantine era in the Byzantine Museum in Zante Town. Museum visitors can also see frescoes from the 15th and 16th centuries. The Vertzagio Folk Museum in the village of Pigadakia has exhibits on the island's history and culture. Visitors can see some artifacts from the 16th century here.
Historic Buildings
The Church of St. Nicholas in Zante Town was built in the 17th century. The Monastery of St. John the Baptist near the village of Katastari dates back to the 16th century. Visitors who climb to the top of Mount Skopos can see the ruins of a 15th-century monastery and a scenic view of the island.
Restaurants
Tourists who are hungry after a day of sightseeing can enjoy traditional Greek dishes such as moussaka at restaurants in Zante Town and in small villages. Visitors can enjoy Greek music at tavernas on the island.