Bikepacking is a combination of biking and backpacking in the wilderness. You grab your best bike, find a wooded trail and head out for a few days of riding and relaxing. It can be a very fulfilling adventure, but there are also many things you need to think about before you take off.
Since you are going to be gone for several days, you need to make sure that you bring everything you need with you to ensure your enjoyment and safety along the trail. This can be a difficult thing to get right for first-time bikepackers, especially because you can't take everything with you: you need to know what to take and what to leave behind. Here are some of the essential tips for bikepacking anywhere.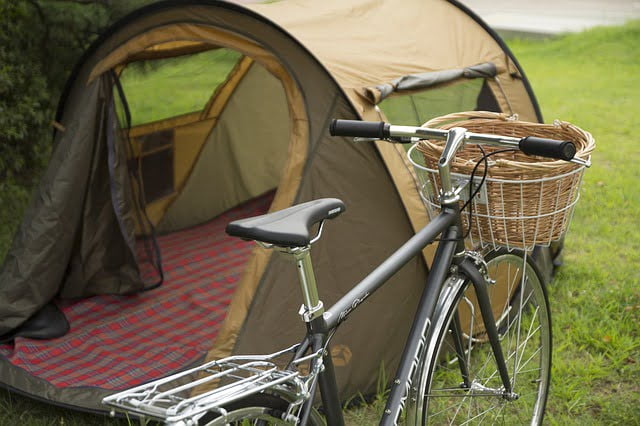 Use the Right Bike
The first thing you need before heading out is the right bike. You may already have a mountain bike, but it may not be ready for the work ahead.
You'll want to mount a rack on the back of your bike so you can carry your belongings along the trail, but some mountain bikes have rear suspension which makes it very difficult — or even impossible — to mount a rack. This means you'll need to use a seat-mounted rack: these are heavy and will make it more difficult to ride, but it's possible.
If you can, use a bike that you can attach a rack to. You should also find a sturdy bike, preferably titanium, that is lightweight and can take a beating. This means that you shouldn't pick up a $100 bike from a store: spending a little extra money in the beginning is a great way of setting yourself up for success.
Bring the Right Clothes
Hopefully, you have an idea of what the weather will be like during your bikepacking adventure. This will give you some idea of what clothing to pack, but you also need to take a few other things into account.
You will be doing a lot of work riding your bike up and down trails, so you need to think about what to wear while you're biking. Moisture-wicking clothing is essential here, as it will help keep you dry. You should also layer yourself with wool, as it will help keep you warm if it rains and you can always peel off layers to make yourself more comfortable. If it's really nice out, you can wear a classic biking jersey to help keep you comfortable.
Again, it's better to dress in layers than to use a bulky jacket over one shirt, so make sure to have a variety of lightweight clothing that you can wear on top of one another. A light waterproof jacket is also something you should bring.
Think About Sleeping Arrangements
After a hard day on the trail, you're going to want to relax by a nice campfire and get a good night's sleep, so make sure to think about what you plan to use for shelter and to sleep in.
The best way to cut down on extra weight and to get a comfortable sleep is to purchase a hammock. They are easy to set up — just find two trees and voila! — and can weigh very little. Of course, if you can't sleep in a hammock, or you know you're going to need a little more shelter, you can still buy a tent, but look for the "fast fly" type of tent. This eliminates the heavy tent poles and still provides protection from the elements. For sleeping, avoid heavy sleeping bags and bring a light blanket to cover up with and something to sleep on. If you're cold, you can wear more of your clothing.
Remember Emergency Supplies
You and everyone who bikes along with you should have a small emergency kit in their possession. You never know what can happen on the trail, so you should be prepared for anything.
A good emergency kit includes things like gauze, bandages, antiseptic cream, tweezers, any other medical supply that would come in a small kit you can purchase at any pharmacy.
There are other things you may not think of, too. You should have a compass and a map of the area you're traveling in, as well as emergency waterproof matches and some emergency tinder so you can start a fire easily if you need — or want — to.
If you're thinking about giving bikepacking a try, remember these easy tips.
Melissa Dodd is a keen cyclist who enjoys clearing her head by getting on her bike and heading off into the open countryside. She writes about her hobby in her articles, these appearing on cycling blogs as well as more general sport, travel and lifestyle sites.