Hiking is a fantastic way to reconnect with nature. You can experience the bliss of natural surroundings and get a good deal of exercise. Hikers love getting out in the fresh air and taking a break from daily life and the technology that surrounds us. The excitement and thrill of discovering new places by foot never goes away.
Packing the right hiking gear is essential, however, as conditions can change and some journeys can be difficult. Getting the essentials right will help you to have a safe hiking vacation and will keep some of life's creature comforts within easy reach. Here are seven items that you should take on every hiking vacation.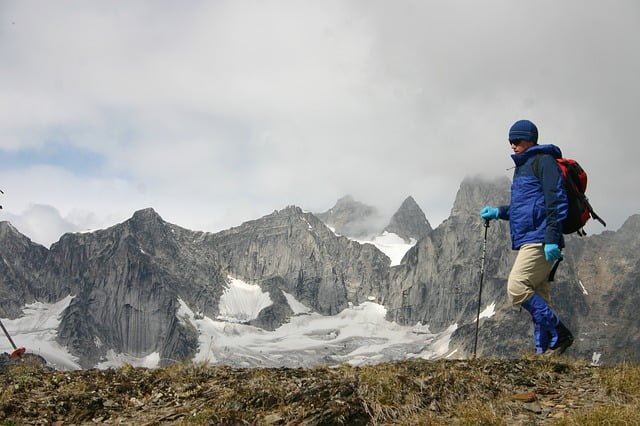 1. Navigation equipment
Being able to navigate your route while hiking is essential, and critical if you are hiking in remote corners of the country. It is not unknown for hikers to walk in circles when they are unguided, so make sure that you pack a map with you that has enough details about the hiking routes and terrain to guide you. A GPS system with sufficient battery capacity or backup batteries to last the trip will also help as it gives you an absolute position if you are lost.
2. Sufficient water
A common cause for hikers to face trouble on their trip is a lack of water. Depending on your route, you may be able to refill your water supplies, but make sure that you plan your consumption and ability to carry water. Dehydrated hikers can get confused and lose their route, so do not run the risk of losing access to water. Keep in mind that you may need to treat the water you top up with, so carry a water filter and consider a chlorine-based water treatment solution.
3. Bring a flashlight
Even if you are sure that you will be hiking only in daylight hours, an injury or adverse weather can delay even the better-planned hiking expeditions. If you are forced to seek shelter at night, a flashlight will be absolutely essential. To save space, you could pack an LED headlamp instead, which will provide adequate lighting for a decent period of time. Always test your flashlight before you go on a trip as batteries can fade with time even if you've not used it.
4. Clothing
Think twice when choosing which clothes you are packing on your hiking trip. Weather conditions can change quickly, and you don't want to be caught out in wet weather, or shiver if it is colder than you expected it to be. Planning on an intensive hiking expedition? Consider buying compression clothing from a brand store that supplies gear that is developed for intense exercise – you will be far more comfortable and will be able to hike longer distances with more ease.
5. Wear quality eye protection
Hiking in the middle of the summer exposes your eyes to strong, intense sunlight. As elevation increases, so does the amount of ultraviolet rays, and these can be very harmful to your eyes in the long term. Eyewear that is rated for 100% UV protection is very affordable, and you will also find that your hike is much more enjoyable if you don't need to constantly squint and avoid the glare of the sun. Don't forget that winter sunshine in snow-covered conditions can also be very intense – so pack your sunglasses in winter.
6. Pack a first-aid kit
Complete first aid kits are readily available, but make sure that the kit you take with you is adequate. It needs to include plenty of adhesive Band-Aids and some sterilized bandages. Disinfecting liquid is also useful, while tweezers can be really handy. If you are planning on a long hiking trip in a remote area, think about taking a first aid course beforehand so that you can help your hiking partners in case they get into trouble.
7. Don't forget insect protection
Whether you pack a spray or wear clothing that repels insects, you will be very grateful for the ability to ward off insect bites while you are hiking. Remember that in foreign countries, insects can carry diseases, so take anti-malaria drugs before your hike if you go to an at-risk area. Mosquito repellent will further reduce the risk of contracting any diseases while hiking in the wilderness.
Your hiking trip is a chance to reconnect with nature, friends, and family. However, hiking can be tough and arduous without the right equipment, which makes taking the right hiking gear so important. Start planning what you are going to take along for the hike long in advance by making a checklist. Before you embark on your trip, match what you have packed to this list and you'll be set to enjoy hiking to the max.