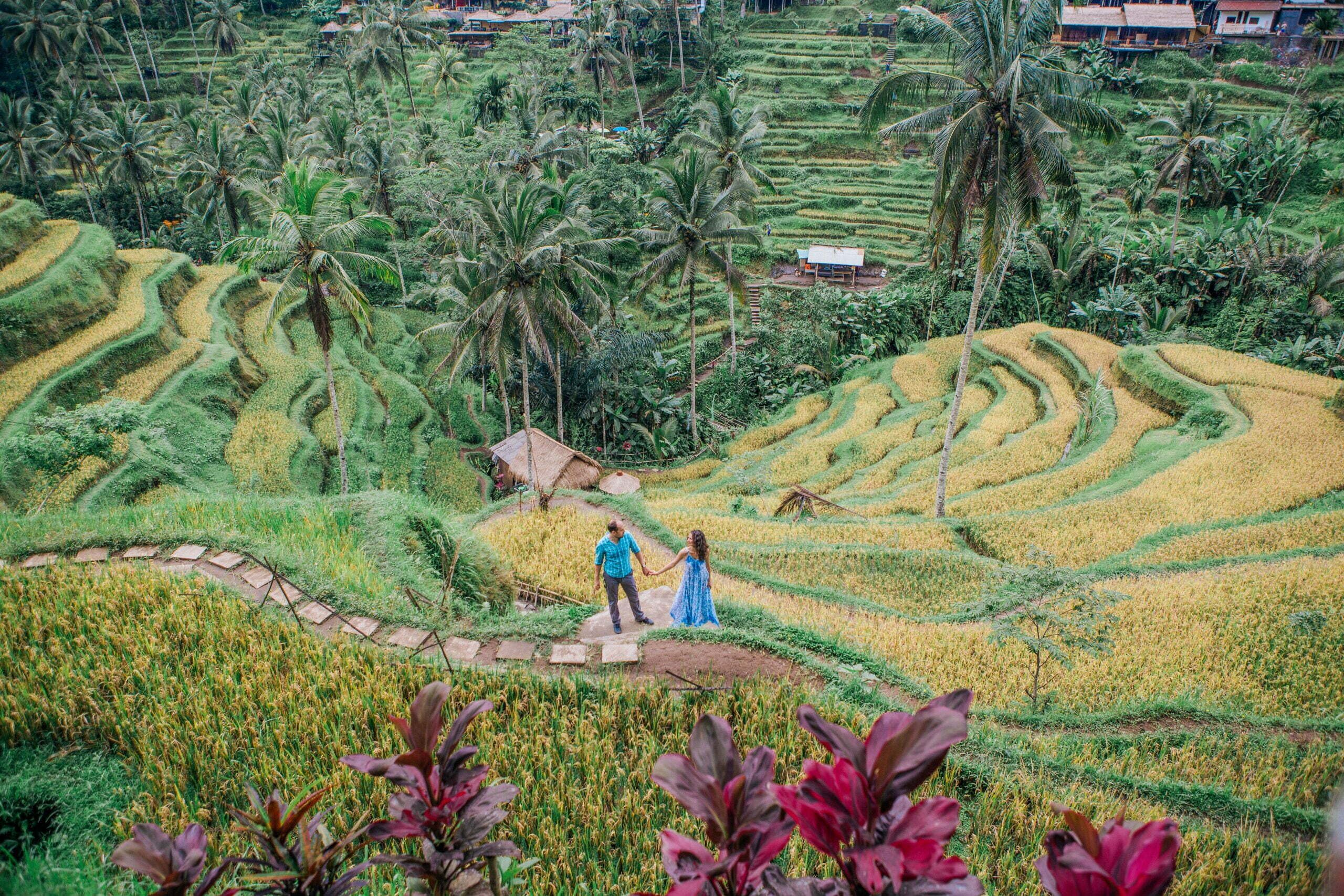 This hidden island pearl offers an incredible tourist offer: from enjoying the beach to travelling through the jungle, staying on the rice terraces, and incredible sunrises and sunsets.
Briefly about Bali
Bali is an island that belongs to Indonesia and is located in the Lesser Sunda Islands. The capital of Bali is Denpasar, where the majority of the population is concentrated. This island has over 4.5 million inhabitants. This tiny island has three active volcanoes, and the soil is rich in minerals and suitable for planting numerous crops such as cotton, rice, tobacco, and many others.

How to get to Bali
You can get to this island by plane, or fly somewhere too, for example, Singapore, and then get to the island by boat. Bali is connected to all major airports in the world from where you have daily flights.

How to move around the island?
You can rent a car, scooter, or taxi or hire a private driver, which will cost you $40 to $60 per day. You have to be careful when it comes to participating in traffic, especially if you are riding a scooter. One of the best taxis is Blue Bird Taxi, which is represented all over the island.

Overview of accommodation in Bali
When it comes to Bali accommodation you have a variety of options, from luxury accommodation to mid-range accommodation and budget-friendly arrangements. 

Luxury accommodation
When it comes to luxury accommodation, you can book private villas, bungalows, and resorts with five stars. Here, the offer includes wellness and spa, yoga center, meditative center, private pool, excursions, and various sea and tourist activities. 

In addition, you have your chef at your service who will prepare a dish of your choice. One of the more famous is certainly Nusa Dua, Viceroy Bali, and Chapung SeBali. Here you will have to be prepared to spend up to several thousand dollars. The advantage of this accommodation is complete privacy, the use of its own beach and swimming pool.
Mid-range accommodation
This type of accommodation is usually a 3- to 5-star hotel. Here, too, the offer is very similar to the luxury variant, but it is financially more acceptable. The price includes an overnight stay, two meals, as well as some excursions and sea activities. Here too, you have the option to book accommodation in the form of bungalows or private villas.

Hostels and budget-friendly accommodation
Bali is especially grateful when it comes to offering budget-friendly options because here, hostels and accommodations have luxurious swimming pools, small private studios, and apartments. 

Many are located by the sea, and some are even located in the jungle, where you can enjoy the view of the dense and rich animal and plant life. There are more of these options where accommodation will cost you from $3 to $11 per night per person; some of them are Farm Hostel, Puri Garden Hostel, and many others.
Tourist attractions in Bali
There are various types of tourist attractions, landmarks, temples, shrines, and natural hidden gems that you can explore.

The Uluwatu Temple
It is a Hindu sea temple built high on the edge of a cliff overlooking the waves of the Indian Ocean. Monkeys live in the temple, so you have to take good care of your things because they tend to steal. Entrance for foreigners is about $1, and they must wear a sarong when visiting the temple out of respect.

Sanctuary of the Sacred Monkey Forest
This forest is a natural sanctuary for monkeys where about 1050 live. Here you will have the opportunity to see numerous statues of various Gods in the Durgama cave. The sanctuary is open for visits from 8 a.m. to 6 p.m., and the entrance fee is $5.

Tegallalang Rice Terraces
This place is part of the cultural landscape of Bali and is on the UNESCO World Cultural Heritage List. Here you will be able to see terraced emerald rice paddies.

Marine activities
There are numerous sea activities that you can do in Bali, from diving, snorkelling, flyboarding, and surfing to boat trips or cruises around Bali. If you want to learn surfing or diving don't worry they have schools and instructors to teach you.

Travel tips for Bali
When travelling, you must take out travel insurance, just in case. Keep in mind that this is a tropical climate and that you must bring a higher protection factor cream to avoid burns. We advise you to drink plenty of fluids and bring light cotton or linen clothing.

The best time to visit Bali
The best time to visit Bali is certainly during the dry season, which lasts from April to October. The rest of the year is affected by heavy rain and monsoons.

Get to know local customs
You must get to know the ways of life of the local people. We recommend you visit their traditional villages and try numerous delicious specialties.

Conclusion
If you want to experience something new, which you haven't before, then Bali is the right destination for your next vacation. The island of numerous Gods is a small paradise on Earth that will leave you in awe.