Nestled on the northern fringe of central London, Angel is an eclectic mix of city and artistic life, offering something interesting for everyone. Over the years the area has undergone many radical shifts yet it manages to preserve its own cultural and creative identity. The area is one of the best locations to live in the city as it is surrounded by excellent restaurants and bars, shopping centres and well-connected to the major public transportation system.
Transport from the Angel
Since the area is centrally located, you can easily walk to lot many nearby places. Angel is also served by a tube station and an Over ground station at Highbury and Islington. Apart from tubes, the area is served by many buses that can take your around to all over London!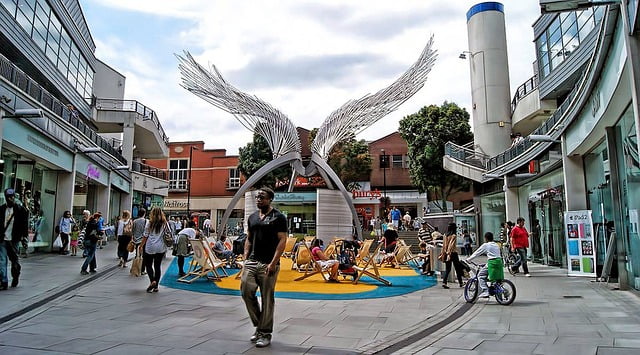 Other significant stations like Kings Cross and Old Street are also in proximity and just 20 minute walk away from Angel. From here, it is also easy to explore bars and restaurants of Shoreditch. Other locations like Leicester Square and Hoxton are also 10 minutes away from here.
Shopping destinations
No trip to London is complete without exploring the shopping destinations. Shopping in Angel can be exciting, where every little corner is filled with so many great stores and markets. Plan your shopping spree browsing wonderful shops in Angel which includes pricey boutiques to low-cost retailers' shops. Some popular shopping stores to checkout are Farah, which is charity shop, where donated clothes are reworked then sold.  Visit Cass Art's flagship store that offers an extensive art material like paints, sketchbooks, pencils, papers, easels. Explore Camden Passage if you like vintage and antique shops, also offering lovely escape from modern London. Another area for browsing branded shops H&M, Gap, Waitrose and a large Vue Cinema, visit N1 centre.
Where to stay
Located in the heart of London, Angel is a quite interesting place to stay if you are in the city of London for a long or short term vacation. If you want to live like a local and get to know about how people stay here, choose a serviced apartment rather than booking a common hotel room. As living in Angel doesn't come cheap staying in a hotel can add to your expenses. Serviced Apartments is a good option if you are looking for an affordable yet relaxing experience. These apartments are fully-furnished and equipped with all modern amenities to make your stay comfortable just like your home.
Best eateries to explore
While spending your day out in the Angel, make your choice from the best London gastropubs. In this hip little part of Islington you'll find wealth of choices in restaurants, offering dishes from nearly every country and cuisine across the globe. Explore restaurants like Hoxley and Porter for tasty British morsels, Almeida for traditionally cool French cuisine, fresh and delicious food. Visit House of Wolf which is the most eclectic and eccentric bar which serves enthralling drinks and cocktails. If you are interested in Mediterranian-inspired food, the best place to hit is Ottolenghi. Another great restaurant in the area is Pix which is popular for offering heavenly platters Basque specialities on cocktail sticks.
With so many options to explore, you'll really be spoilt for choices when choosing which fare to indulge your taste buds.