If you are looking for a truly memorable vacation experiences, then you might consider going to Sipadan Island. This island in Sabah, Malaysia is a small island covered with rainforest which is equally fascinating like the underwater. The island is actually a top of a lava chimney from an active volcano millions of years ago. But now, Sipadan is a very interesting island rising more than 600 metres from the sea floor of Celebes Sea. Continue reading and know more about this very beautiful place. Know about how to get there, what are the activities that you can do, what you can see and some other relevant information that ought to know.
Sipadan is just one out of the three islands that you can visit in the east coast of Sabah; other islands are the Mabul and Kapalai. These three islands are very close to one another that it will only take a few minutes if you are planning to go island hopping. How to get there is fairly easy. All you have to do is to take an international flight directly to Kota Kinabalu. If there are no available direct flight to Kota Kinabalu then your next option is no other but to take a direct flight to Kuala Lumpur (capital of Malaysia). From Kota Kinabalu, take a domestic flight to Tawau which will only take 45 minutes approximately.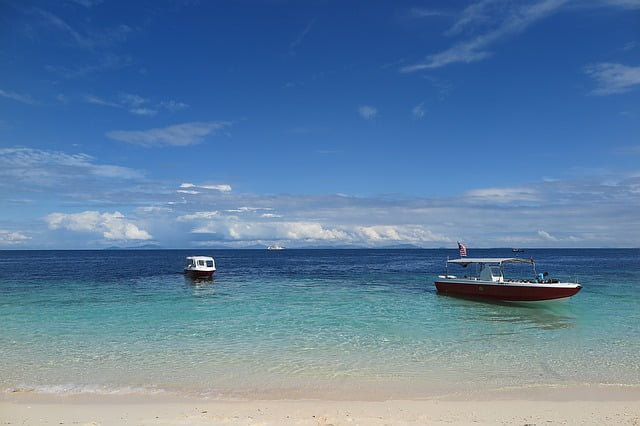 From Tawau, you can ride either a bus or a taxi to reach Seporna and this will take another 45 minutes. From Seporna, you will then ride a speed boat to reach Sipadan, Mabul or Kapalai. Except for Kapalai Island, the two other islands have several resorts which offer accommodations at very reasonable rates. But if you don't really want to stay in a resort, you can always go back to Seporna or Tawau where establishments like hotels, restaurants and banks are located. The travel is quite long but it's deeply gratifying once you finally reach the place.
The real beauty of the place is not really on the top of the land surface. You can actually find them under the sea where you can witness the captivating underwater ecosystem. Since there are literally thousands of identified species of organisms and there are still more yet to be discovered, Sipadan is considered as a biodiversity hotspots along with other Southeast Asian diving havens. Sipadan Island has sandy beaches, pristine blue waters and rich coral reefs making it as one of the best diving destinations in the world. It is also one of the tourism frontiers in Malaysia driving millions and millions of visitor annually.
Most activities that you will find in Sipadan are water activities. One of which is scuba diving. In Sipadan alone, there are already several exciting dive spots you can enjoy. Some of the most popular and most visited among tourists are the Barracuda Point, Drop Off, Coral Gardens, Staghorn Crest, Hanging Garden, West Ridge, Lobster Lair, Turtle Tomb, Midriff, South Point, White-tip Avenue and Turtle Patch.
There are so many things to see when you get to experience Sipadan scuba diving. You can see manta rays playing around that you can just bump on them. You can also encounter a huge swirl of chevron barracudas. There are grey reef sharks as well but they are not that threatening to humans. In fact, they are more threatened by us. If you're fortunate enough, you might also encounter the largest living mammal in the entire world which is the whale shark. You can see whale sharks at the South Point during migration periods. There are hundreds of graceful hammerhead sharks too and you can find most of them at the wonderful Hanging Garden. You can also find shimmering roll made by a large school of jacks. Large bumphead parrotfishes are also roaming around the top of the reefs making them one of the most visible creatures that you can see first. There are also white-tip reef sharks and turtles: the green turtles and the hawksbill turtles.
Sipadan scuba diving is indeed an unforgettable experience you can treasure. But aside from scuba diving, you might also want to try snorkeling, fishing and some other water activities that are being offered in Sipadan. However, scuba diving is the most popular activity. But if you want to go beyond the basics of scuba diving, there are various diving agencies in Sipadan which offer formal training and authorised certifications for being a professional scuba diver.