Although most visitors to Vanuatu head to Port Vila at some point on their holidays, fewer people make the effort to go to Luganville. Which is a shame, because the second city of Vanuatu is a thriving, beautiful city that is bursting with things to see and do. Located on the largest island in Vanuatu, Espiritu Santo, also known as Santo, Luganville is easy to visit, and here are some of the top attractions to check out on your trip.
Million Dollar Point
Vanuatu was host to a large number of American soldiers during World War II, and many reminders of their time here still remain. One of the most important reminders comes in the form of what is now called Million Dollar Point. It was here that the American military dumped all of the equipment that they did not need, and it has now become a popular underwater attraction.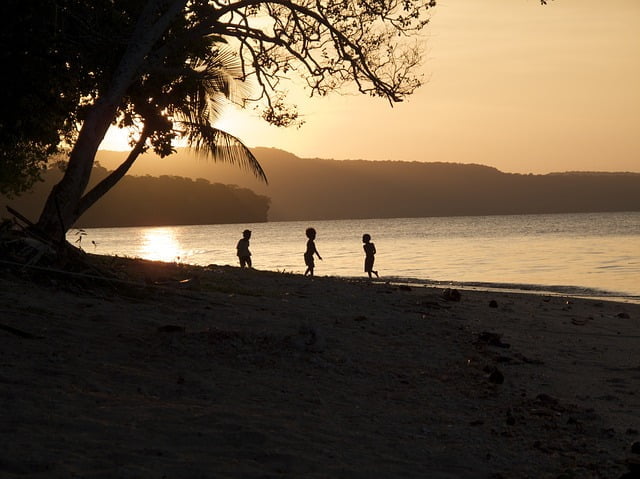 It is especially popular with snorkelers and divers who explore the ancient equipment that is now covered in corals and surrounded by tropical fish. However, it is also possible to see some of the items on the beach at low tide.
In addition to this interesting attraction, there are also a number of ammunition bunkers in the area that also date back to World War II, and these are worth seeing if you get the chance.
Mount Hope Waterfall
An excursion to Mount Hope Waterfall is one of the most exciting trips you can make while you are in Luganville. You will have to join up with an organised tour, and you will then be led through the rainforest and a mighty gorge as you trek to find the waterfall. The waterfall itself is incredibly beautiful, and you will be able to spend the afternoon swimming in the pool and relaxing underneath the plummeting water. All in all, it is a very fun day out and a great way to see some of the surrounding area.
Millennium Cave
Millennium Cave is one of the most beautiful caves in Vanuatu, and you will find it about a 45-minute drive from Luganville. Getting here is part of the adventure, and if you join a tour, you will be taken through the tropical forest and through rivers by a guide. It can be quite hard work, but the result is worth it when you explore this beautiful cave once you reach it.
Public Market
If you book a cruise that stops off in Vanuatu like some of the cruises at run by Holland America, you may want to experience the colour and sounds of a local market. If so, the main market in Luganville will provide you with a great opportunity to see just that.
The market is located near to Sarakata Bridge, and it is filled with local people selling their varied and colourful produce. Pick up some cheap local food for yourself, or just wander around and enjoy taking it all in, as it is a great place to experience the local culture.
SS President Coolidge
The SS President Coolidge is quite simply one of the most famous wreck dives in the world, so if you are an advanced diver, you should not miss out on the opportunity to see this. The liner has been lying under the waves ever since it was sunk by mines back in 1942, and it is now a fascinating underwater museum, so make sure you don't miss out on this during your time in Luganville.
The Nanda Blue Hole
The Nanda Blue Hole is one of the most well-known of the blue holes in Vanuatu, and it is located a short drive from Luganville. When you arrive, you will be able to go swimming in the incredibly blue water, and if you take your snorkel you should be able to spot some fish. You can spend as much time as you want to relaxing and cooling off, surrounded by lush green vegetation. Just make sure your take your camera.
See All the Highlights of Luganville
Luganville is one of the best places to visit during a holiday in Vanuatu, so try to plan a trip here at some point and stay for a couple of days or more. The above attractions are some of the best that you will find here, but there are plenty more things to see and do in the area, so try to visit Luganville on your holiday and have a great time exploring the city and the surrounding area.