Munich is a destination that every traveller should consider visiting in the wintertime. The city offers plenty of things to see and do, plus the it looks more charming than ever when it's twinkling with lights and covered under a blanket of snow. If you are not aware of what Munich has in store for you, here are a few reasons to compel you to visit the city this winter.
Christmas markets
Oh, the Christmas markets! The markets are held at Marienplatz in the heart of the city centre, and the tradition dates back to the 14th century. Just like when it first began, today the Munich Christmas Market offers traditional Bavarian Christmas gifts, including wood carvings, gingerbread (Lebkuchen), and exquisite glassware to help decorate your Christmas tree. Yes, it gets a bit chilly out there, but a cup of hot spiced wine can easily make things right.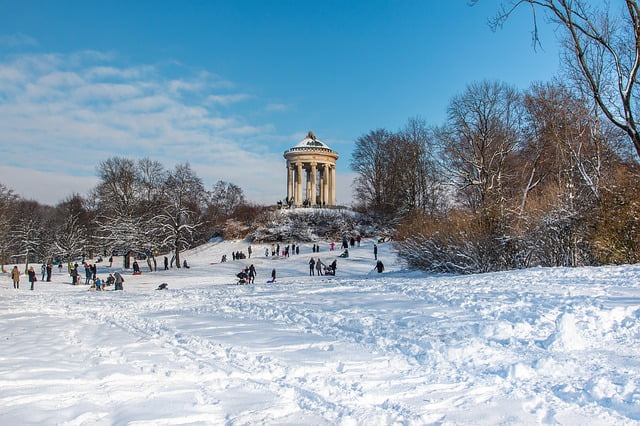 Fasching festivities
One of the biggest events leading up to the holiday season is Fasching – a period of merrymaking and feasting celebrated just before Lent. Soon after Fasching season opens, a mock government is elected along with a carnival prince and princess who plan the carnival festivities. People will gather to celebrate in their most extravagant Karneval Kostüme with plenty of drink and dance thrown in.
Concerts
You can't feel the Christmas spirit without Christmas carols! One of the best spots to listen to German Christmas music is at Frauenkirche (Church of Our Lady). Throughout the month of December, various Bavarian choirs usher in the Christmas season with classical concerts, organ recitals, and music-filled church services. While church services are free, keep in mind that tickets are required for concerts.
Ice skating
Munich offers a number of winter sports, but none is as popular as ice skating. Rinks open across the city once the temperatures are low enough in November, and it's a place where friends, couples and families can enjoy some winter fun while the snow falls and the lights twinkle all around them. Skates can usually be rented on site and hot cocoa stations keep skaters warm. Munich's largest open-air ice-skating rink is Muenchner Eizsauber.