Camden, Maine is also known as the "Jewel of the Maine Coast". If you are looking for something special, this destination is it. Affluent families built their summer homes in the late 1800s because Camden was considered one of the most exclusive travel destinations in New England. The 1957 film "Peyton Place" was filmed in this picturesque town, and Camden is still considered a top choice for a movie location. Here are a few places to consider visiting if you find yourself in Camden, Maine:
High Street Historic District
The 58 brick turn-of-the-century buildings that were added to the National Registry of Historic Places in 1989 present a classic and charming picture of a small coastal town. Right on the harbor, there is a wharf, lovely old homes, many shops and restaurants, a little foot bridge with beautiful flowers, and free parking.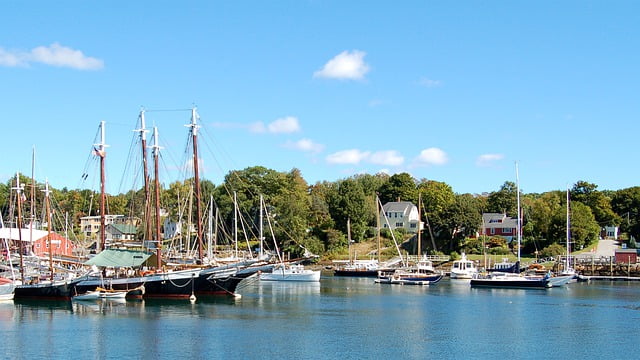 Camden Harbor
This is a pleasure boater's paradise with ships, million dollar yachts, and Windjammers that are docked right on the Penobscot Bay, one of the world's best cruising bays. A sightseeing cruise lets you observe sights including the historic lighthouse that was built in 1836, Curtis Island, uninhabited islands and more.
Camden Harbor Park and Amphitheater
These are two parks that were gifted to the town of Camden by a local philanthropist to complement a renovated Camden Library. Opening day marked the 1931 graduation of the Camden High School class. A $700,000 restoration occurred in 2004, there is a spectacular amphitheater, and these are listed on the National Register of Historic Places.
Camden Opera House
This grand building is a renovated Victorian opera house with spectacular chandeliers, detailed restoration of friezes, replicated gilt stenciling, a horseshoe balcony, a 500-seat auditorium and three meeting rooms.
Barrett's Cove
Barrett's Cove is a picturesque fresh water beach on Megunticook Lake in Camden. Added to spectacular views of sheer cliffs that make up the western side of Mount Battie are swimming areas, a picnic area, and rock climbing facilities.