The climate and mountainous landscapes of Armenia are perfect for paragliding: here you can enjoy about 300 sunny days in a year and there are lots of flying areas. These flying places are various and very picturesque and the choice depends on natural conditions and seasonal factors. By the way, paragliding flights are becoming popular in Armenia day by day and not only among locals but among foreign tourists as well. The country even offers exciting paragliding tours to Armenia with experienced pilot-instructors.
So, what places are the most favorite and popular? Here are some of them:
Covagyugh village
Covagyugh village is located at the distance of 75 km from the capital in a very picturesque place near the legendary Lake Sevan. This lake is the largest in the Caucasus region and one of the highest in the world. Nature here is really impressing: the azure waters of Sevan shine under the sun rays and the picture is completed by surrounding wooded mountains and hills.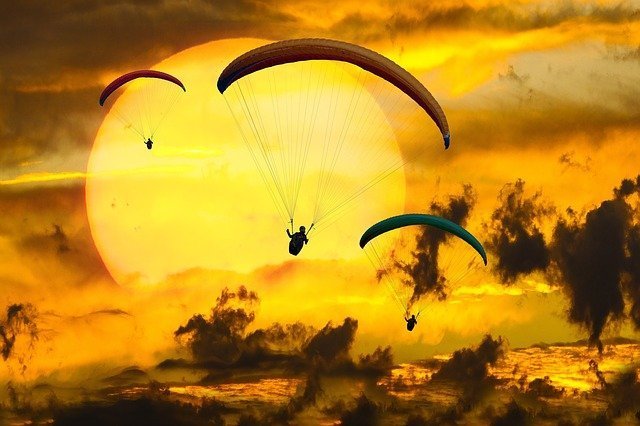 The upper slopes of Covagyugh village (near the «Akhtamar» guesthouse) with a magnificent view of Lake Sevan is a favorite place of Armenian paragliders You can get to the take-off area easily: either via ropeway (which is a comfortable and cheap variant) or by off-road vehicles as there are no any asphalt roads. This place is very suitable for this kind of sport: the mountain ranges are perfect for dynamic soaring and the landing fields are smooth and soft. The only minus is a changeable meteorology. By the way, the best season will be from June to September. So if you happen to visit Armenia and want to practice paragliding, don't hesitate, you will definitely like this place!
Armaghan Mount
This beautiful place will impress all lovers of beautiful nature! We are speaking about the volcanic Mount Armaghan situated at the distance of 125 km from Yerevan in Martuni region. The mount is unique because of it small and fascinating lake surrounded by alpine vegetation. The air is filled with nice flower aromas and the picture is completed by the small church located not far away from the lake. This Armaghan sanctuary was built on the ancient ruins the age of which is not found out yet. An asphalt road leads to the mount so you can get there by car. From all the sides Armaghan is surrounded by flat and free area so you can start wherever you like just determine the direction of the wind. Armaghan has also predictable micrometeorology that is a big plus. The only minus – it is round and therefore not suitable for soaring in dynamic.
Hatis Mount
Hatis Mount will please you with the simple relief, predictable aerology and unlimited fields for landing. By the way, it also offers an exciting view of Aragats the highest peak of Armenia (4090m) and Ararat the symbol of the motherland for all Armenians. A big plus is that it's very close to Yerevan, somewhere 25 km, if you go from the city center. During the day, the wind is blowing in the southern slope, which is very convenient to start. Rising flows are interesting, narrow thermals and a little aggressive. They say that if a person learns to fly here, then later he will be able to fly anywhere else! So if you are a beginner in paragliding this place will be very convenient for you.
So, as you have seen above Armenia has lots of interesting offers for active holiday lovers. And if you are planning to spend your vacation in Armenia, do not hesitate! You will definitely have a good time in this unique and hospitable country and get lots of vivid impressions.