Seoul has a night owl culture. I don't understand how, considering people get up far too early and work well past the end of their shift (the other day I even ran into my boss going into work on a Sunday night!), yet somehow they manage to find some time for fun. Here are my suggestions for living it up like a local once the sun has gone down:
The Bar
It seems like many evenings in Korea start out with a casual night of drinking at the bar. Even in residential neighbourhoods you need not walk more than 10 meters to find a watering hole. A smokey haze usually fills the air, and cheap pitchers of Hite and Cass beer dot the table. You'll notice that after a few pints, people will start going for the stronger stuff: soju. This is a beverage made from rice, which is often compared to vodka. It is potent! After a few shots at their own table, it is not uncommon for Koreans to approach foreigners with a bottle in hand and ask to do more shots. It's all in good fun, just do make sure you're not on an empty stomach. 😛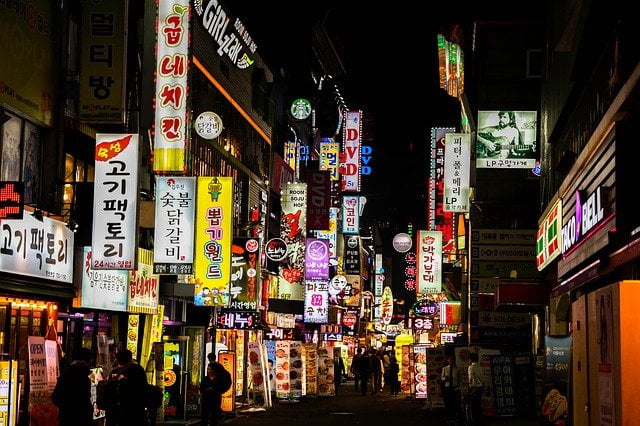 Noraebang (노래방)
With all this liquid courage in their systems, people are ready to let off some steam. This is where the noraebang, also known as singing room, comes in. You rent a room by the hour with your friends and then it's time for your best rendition of American Idol or Britain's Got Talent. These rooms come equipped with comfy couches or loads of throw pillows, a flat screen TV, a catalog with thousands of songs including oldies and the latest hits, a couple of microphones, some tambourines and maracas – and it's time to make your own fun!
Night Food Stalls
If the night is still young and you are waiting for the clubs to get going, grabbing a little snack is a good idea. Places like Namdaemun, the largest outdoor market in all of Korea; Myeongdong, the city's main shopping district; and Hongdae, the hip university area, are always buzzing with activity. The crowds come out in droves no matter the time of day; making them the perfect places to get some street grub. Some popular things to try include haemul pajeon (해물파전), which is a Korean pancake that contains vegetables and seafood; hotteok (호떡), a deep fried dough that is filled with brown sugar, cinnamon, nuts and spices; and ddukbokki (떡볶이), rice cakes served in a spicy chilli sauce. Just let your nose guide you!
Hongdae's Club Scene
By the time the clock strikes twelve, it's a good time to be arriving in Hongdae. The area around Hongik University draws a very artsy crowd; you'll see students strumming a guitar, dancing, or beatboxing. Every last Friday of the month, an event called Club Day takes place. For a mere 20,000 won (less than $20 USD) you can purchase a bracelet that grants you access to 20 clubs in the area, and you also get a free drink with that. It's highly unlikely you'll make it to more that 4 or 5 clubs between midnight and sunrise, but you can sure try! If you start feeling like calling it an early night, you'll be able to find lots of hostels and affordable hotels in the area.
The 'Respectable' Drunken Men
I call the wee hours of the morning the sightseeing portion of the outing. This is where you can expect to find youngsters, foreigners, and even men in business suits passed out on the side of the road. If you're new to Korea, you'll quickly learn that this is a common sight. I'm personally not the type to drink myself to this state, but it sure does make for some good people watching; if you're into laughing at other people's inebriated state…
And that is how you can spend a night on the town. Enjoy a pint with friends or strangers, be merry, belt out your best impersonation of Oasis or the Rolling Stones, munch on some deep fried goodness, go clubbing, and if you're still up at sunrise go for a stroll and see what you can find.
Have a safe weekend!