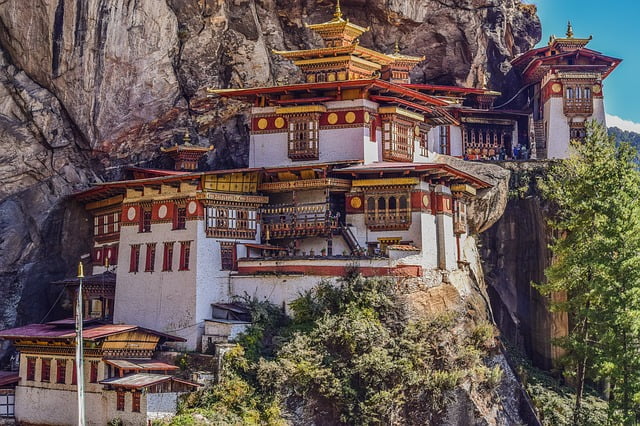 A relationship is a complex affair. It requires patience, perseverance, mutual trust, and respect to navigate the ups and downs. This is why you should take some time off to explore the world with your partner. It's the perfect chance to rekindle romance, strengthen your bond, and experience new adventures.
So, if you feel like escaping to some faraway places to spice up your relationship, here are some of the world's most incredible destinations for explorer couples.
Malawi
Although Malawi is a small country compared to most countries in Africa, it has a unique charm that appeals to explorers looking for an adventure-filled holiday in some off-the-beaten-path destinations. It's dominated by Lake Malawi, an extraordinary freshwater lake.

Lake Malawi is one of the most impressive lakes in Africa and the third-largest lake. Its waters are crystal clear and home to a hundred varieties of marine life, giving life to the fishing villages along its shores. While here, you will have the opportunity to experience freshwater diving and snorkelling. Thanks to its excellent visibility, it's an ideal place for beginners to learn how to dive.
Malawi is also one of the top destinations for game viewing in Africa. It's home to incredible game reserves, such as the Majete Game Reserve, Liwonde National Park, and Tongole Wilderness. For couples who love to explore the wildlife, this is the opportunity to experience incredible sightings of hippos, elephants, crocodiles, and other wild animals.
Georgia
If you're the kind of couple who want to explore fortified mountain villages, visit ancient churches, and take small group tours of Georgia mountains, it's the perfect destination for you. Set along the intersection of Europe and Asia, Georgia is mainly associated with its spectacular landscape – forests occupy around 40% of the area and are the main draw for travellers who love to explore.

But aside from its stunning landscapes, there are plenty of other things to discover in this former Soviet nation. The best way to start your exploration of the country is to join a tour to experience the history of Georgia. The country's capital, Tbilisi, is home to fascinating historical sites and monuments, such as the Holy Trinity Cathedral, Narikala Fortress, and Bridge of Peace. The city is also home to the ancient district of Abanotubani, famous for its Persian-style thermal baths where sulphurous water comes out naturally from the ground.
For couples who love wine, you should visit the ancient wine region of Kakheti. Located two hours from Tbilisi, it's the best place to learn more about Georgian's long history with wine, dating back to around 8,000 years. Joining wine tours in Kakheti is also an excellent opportunity to sample the most exquisite wines in the region.
Oman
Oman is a small country in the Middle East, home to beautiful beaches, gorgeous mountains, breathtaking views, and welcoming locals. While it may not be as popular as its neighbouring country of the UAE, this country certainly has a lot to offer. If you're looking for a new place to discover in the Middle East, make it Oman.
If you're into off-road adventures, Oman has plenty to offer for you. As you drive through the road towards Wadi Bani Awf, you'll come across breathtaking landscapes, and the higher you go, the more incredible the views! Oman's mountain scenery is truly amazing. Its tallest mountain, Jebel Shams, is dubbed the "Grand Canyon of Oman." At 3000 meters high, it is incredibly stunning. While here, conquer the Balcony Walk, a trail that will lead you to steep cliffs dropping down to hundreds of metres!
Oman is also home to interesting historical sites that are a joy to explore. Visit the Nakhal Fort, a beautifully restored fort built around the 17th Century. The Bahla Fort, a UNESCO World Heritage Site, is also worth checking out. It was built around the 13th Century and is located along the foot of Jebel Akhdar highlands.
Bhutan
As the leading green destination in the world, Bhutan is the perfect destination for couples looking for conscious travel while exploring their spiritual side and visiting monasteries. Famous for its high mountains and deep valleys, Bhutan is not like any destination on Earth. Lying at the eastern end of the Himalayas, it shares borders with China and India.

While attending travel conscious Bhutan tours, you will find steep and high mountains crisscrossing with swift rivers. The extraordinary diversity of its landscapes and the diverse climate conditions have contributed to the country's outstanding range of ecosystems and diversity that are truly worth discovering.
Explore Bhutan's spirituality by visiting temples, palaces, fortresses, and sacred sites. Thimpu is home to one of the largest Buddha structures made from bronze dominating over the city. Then there's the Tiger's Nest, the most popular attraction in the country. This beautiful monastery lies along the cliffside of the upper Paro Valley. Getting to the monastery will require a 3 to 5 hours hike.
Armenia
Armenia may be tiny, but it's a truly fascinating country to explore. Tucked away behind Turkey and is a neighbour of Georgia, Armenia is an ancient and mystical country that's still not spoiled by crowds of mass tourism.

Armenia is home to the majestic Mount Ararat, a snow-capped mountain in the extreme east of Turkey. This sacred mountain plays a vital role in Christian history since this is where Noah's Ark is believed to have settled after the flood. With a history dating back to 4110, Armenia has a fascinating history that's truly worth exploring. It's the first country to have adopted Christianity as its state religion. Nowadays, you will find tons of architectural monuments of Christianity all over the country.
Armenia is also home to Lake Sevan, the highest freshwater lake in the world. Because of its unique charm, Lake Sevan is dubbed the "Pearl of Armenia". The area around the lake is a beautiful place to explore. You'll also find the majestic monastery of Sevanavank nearby, a beautiful monastic complex built in 874.