People who enjoy traveling and camping adventures tend to buy gear that they can use extensively and effectively regardless of the trip they are on. If you travel often, by car or by plane, then you know the importance of packing light while not skimping on packing the gear you use most. In fact, even if you don't go camping a lot or out on many backcountry adventures but love taking off on the occasional road trip or day hike, you'll be surprised to find just how many items from your camping gear can come in handy when you travel.
The key is to make sure you always clean and store your gear properly between use so you can ensure it lasts its entire lifetime. There is nothing worse than putting up your tent after a winter of storage and finding it's moldy on the inside from never getting dried out. Always check your gear and take the proper steps to ensuring it lasts as long as it can so you can get full use of the product.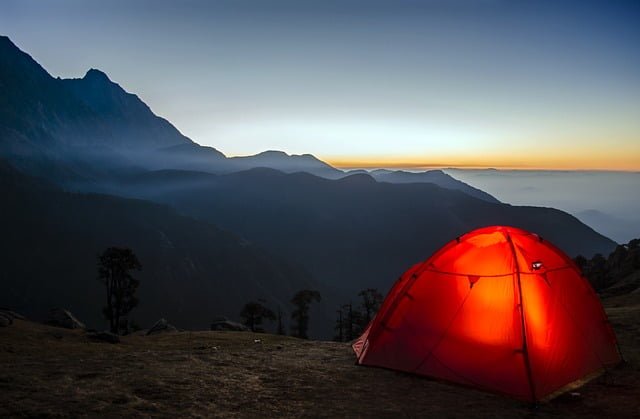 Shelter Matters
If you're planning to travel to a different state for an event like a concert or family reunion, you're likely looking at either one long car ride or a road trip with scenic stops along the way. This is one of those great travel adventure opportunities where your bag of camping gear will prove more useful than you realize. Having a tent is a great way to avoid booking costly hotels and allows you to stop and camp almost anywhere you want along the way.
With a tent on hand you'll always be prepared for those unexpected situations you encounter while on the road. If you want something super light and compact, check out the two-person Talus Tent by The North Face.
First Aid & Survival
Having a first aid kit on hand whether you're in the forest or traveling across the country is always a smart idea. You never know when you might need it and most survival kits are so small you won't notice it at the bottom of your hiking pack or under the backseat of your car. Another awesome dual purpose survival and travel item is a solar panel charging kit. Charge on the go basically whenever and wherever you want.
Let There Be Light!
Another item that you should always travel with, camping, hiking, or simply while you're out and about, is a reliable flashlight that is waterproof and compact, like Streamlight's Ultra-Compact ProTac 2L. You never know when you will find yourself in a situation at night where having a high-quality light will make all the difference. Also consider a headlamp, they allow you to have both hands free while pointing the light where you look. Make sure you remember to remove the batteries so they don't drain and leave you without light when you need it most.
Food On The Go
Freeze dried meals are great when camping, but they work great for other travel adventures as well because they are easy and low cost. They are lightweight and don't take up much room so toss a few into your trunk before you hit the road.
If you're going to be cooking on the go or even while camping you should invest in a camp stove. A mini camp stove has endless uses regardless what type of adventure you're on. Hey moms, need to warm up some milk for the baby? Just pop it on the PocketRocket for a minute and it will be good to go!
Clothing Essentials
It might seem pretty obvious, but having a good rain jacket and comfortable pair of shoes will really make the travel life a lot easier. You never know when bad weather is around the corner so a jacket that keeps you warm and dry is ideal.
Shoes that are comfortable both on and off the sidewalk will give you confidence no matter where your adventures take you. Teva makes the ultimate dual purpose shoe, the Sugarpine Airmesh, that will keep your feet happy no matter how far you walk. To top it all off, when you travel you're going to need some sort of waterproof and tear-resistant duffle bag to shove all your stuff in. Something that is durable, easy to spot, convenient to carry and, of course, the best size for your gear.
Now that you know some of the best dual-purpose gear for all of your travel and camping adventures you can stock up and know you're prepared no matter what journey you head out on next. With the holidays approaching, it's a great idea to start planning some of these items before the sales so you can get the best bang for your buck. Happy travels!