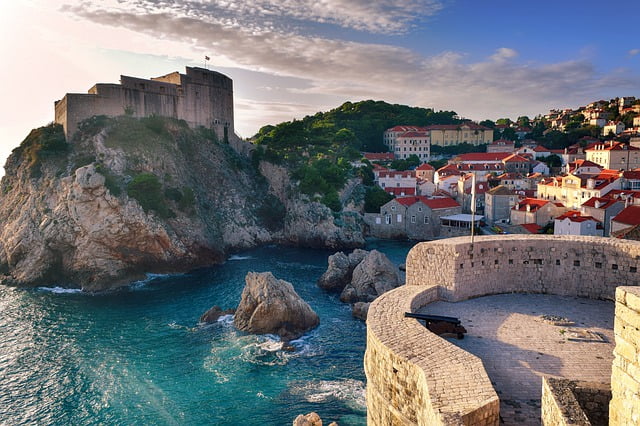 Having kids should not hinder you from fulfilling your dream of exploring Europe, home to some of the most beautiful countries in the world. The continent is vast and filled with beautiful sceneries, rich cultures, fantastic historical sights, and stunning natural landscapes. Moreover, Europe has several family-friendly cities that you can discover even with your toddlers in tow. 
If you're wondering where to go, check out these amazing places to stay in Europe with toddlers.
Dubrovnik
Croatia is home to many beautiful cities that cater to families with kids, such as Dubrovnik, famous for its Old Town, encircled with massive stone walls. Take your toddlers to walk through the medieval walls and admire the gargoyle at the main gate. From here, take the Dubrovnik Cable Car, a 4-minute scenic ride that takes you on a journey towards the highest peak of the city, Mount Srđ.
Spend a day at one of Dubrovnik's stunning beaches, such as Lapad Beach. Located in a protected location in a bay, it is a child-friendly beach with shallow turquoise waters, safe enough for your kids to swim and paddle in. Plus, there are lifeguards on duty, and the shore is lined with sun loungers where you can relax to admire the views. If your kids love animals, take them to the Zarkovica Animal Shelter, home to hundreds of dogs and cats, and run by dedicated and passionate volunteers. This animal shelter welcomes visitors of all ages, and you are free to roam around, meet the animals, and learn more about the organisation.
Given the many family-friendly attractions in the city, it might be worth staying here for a few days to soak up everything. Stay at one of the family villas in Dubrovnik, which comes equipped with child-friendly amenities.
Cornwall
Cornwall is not just about the pasties and fish chips – it also has tons of oodles to offer for family-friendly holidays. It has miles of beautiful coastline home to stunning beaches and secluded coves, some of which are safe for your toddlers to swim in. Cornwall is also home to a thriving water sports community where you and your little ones can try your hands at sailing, bodyboarding, swimming, and more. 
For families who love to explore, you will find great museums, fantastic gardens, and a vibrant arts centre based around St Ives. Because of Cornwall's shape, nothing is too far away, which means it's possible to see many things in a day. You can visit the garden in the morning, grab lunch at a restaurant, and spend the rest of the day at a beach.
Menorca
Menorca is an excellent choice for family-friendly holidays in Europe. It has more beaches than its neighbours in the Balearic Islands. Best of all, the beaches here are quieter and more family-focused compared to the beaches in Mallorca or Ibiza. Since there are no long stretches of coastal roads and as a UNESCO biosphere reserve, Menorca has managed to avoid the rush of sprawling high-rise coastal complexes as seen elsewhere on the Mediterranean. Yet, there's a wide choice of hotels and villas that cater to families with kids.
To get an overview of Menorca, take your toddlers to Monte Toro, the island's highest point. Along the way, stop off at a bakery to sample the mouth-watering crespell or amargo pastry. Check out the many secluded coves on the island and explore the picturesque fishing village of Fornells at the north coast.
Make a splash at the Los Delfines Aquapark, located just outside Ciutadella, on the western part of the island. It has an Adventure River, hydro tubes, and other rides that are suitable for your little ones.
Sicily
With a long history of invasion, Sicily is a fascinating island featuring a rich mixed heritage of Greek, Romans, and Arabs. Sicily's wide-ranging influences are evident in its landscape, culture, and architecture. Whether you opt to explore the capital Palermo with its plethora of Roman, Greek, and Byzantine architectures or head straight to the charming town of Taormina, Sicily will make your European family holiday truly memorable. To make the most of your holiday, stay at one of these luxury family villas in Sicily, predicted to be one of the best places for villa holidays in 2022, for a family with small children.
Like anywhere else in Italy, you will find that families with kids are welcomed warmly in Sicily. Begin your journey at the capital of Palermo, where you can explore the city's fascinating historical sights. Experience Sicily's long tradition of puppetry by visiting the puppet theatres of the city. The plays are usually in Italian, but your little ones can certainly follow along with their lively music and animated actions!
Although most of the beaches in Palermo are pebbly, there are some excellent spots where your little ones can safely paddle in. For more watery fun, check out the waterslides at Etnaland Aquapark, a theme park on the island's east coast.
Crete
Crete is the largest of all Greek islands and is the cradle of early Mediterranean civilisation. It's a fantastic destination in Europe, especially if your toddlers tag along. The island is blessed with stunning beaches, gorgeous, white-washed villages, sparkling blue seas, and breathtaking landscapes of wildflowers, vineyards, rugged mountains, and orange groves.
The best thing to do in Crete with your little ones is to spend the day at the beach. One of the island's best beaches is Finikodassos beach, a conservation area featuring a stunning backdrop of the largest palm grove in Europe. It's a great place to snorkel and do other fun water sports such as jet skiing and windsurfing. The Pacheia Ammos is also a town to visit with your toddlers, home to a beautiful beach with gently shelving waters.
Another fun activity in Crete with your kids is to experience a fun whale and dolphin-watching cruise from Rethymno. The adults can also take part in snorkelling and fishing excursions. In Hersonissos, you will find the Aquaworld Aquarium & Reptile Rescue Centre, another interesting place to visit in Crete with the kids.